FINALLY! Rolex Introduces a "Pepsi" Cerachrom GMT Master II 116719 BLRO at Baselworld 2014
Mar 26
Baselworld 2014 doesn't officially open until tomorrow, but Rolex has already announced that they've FINALLY created at "Pepsi" read and blue bezel GMT Master II in the Cerachrom bezel (reference 116719 BLRO): Ever since Rolex released the first "super case" Rolex sport watch with a Cerachrom bezel (the all-gold Rolex GMT Master II 116718 LN which debuted at...
Rolex Opens Its New Facility in Bienne
Oct 24
With the official inauguration, on October 16, 2012, of its new production building in Bienne, Rolex has completed the vertical integration process it began over 10 years ago. This gives the brand complete control over the manufacturing of the essential components of its watches, from the case to the movement, from the dial to the bracelet. The completion of the major strategic construction...
The Rolex Baselworld 2012 Collection iPad App
Aug 24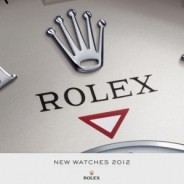 Last year, Rolex surprised me by releasing an app for the iPad called Perpetual Spirit:  On Exploration.  It was a surprise not only because the famously traditional, change adverse, and perhaps stodgy Rolex was producing content on the iPad, but also because the app (as well as the print edition of this particular publication) actually talked about watches <gasp!>.  As  a long time...
The Rest of Rolex's Basel 2012 New Products
Mar 08
For Rolex, the SKY-DWELLER (which I wrote about yesterday) was clearly their lead launch product for Baselworld 2012.  In addition to several jewel encrusted monstrosities which hold no interest for myself and my readers, they did roll out some other items of interest.  First, the long-anticipated non-date Submariner 114060 which has all of the upgrades (ceramic bezel, blue lume, bracelet,...
Rolex Unveils The SKY-DWELLER At Basel 2012!
Mar 07
A surprise new model from Rolex was debuted this morning in Basel Switzerland at the annual Baselworld Watch Fair – it's called the SKY-DWELLER: Visually it appears to be some sort of a hybrid between the Yacht-Master II and a Datejust II.   It's not exactly what I'd call a "pilot style" watch either and the name suggests.   What the SKY-DWELLER is however...
Rolex USA Price List As Of May 2011
May 17
If you haven't yet heard, Rolex has once again increased the US Retail prices on nearly all their models. The Rolex Reference Page at LuxuryTyme.com has obtained a PDF price list containing all Rolex models available in the US, along with their current retail price.  You can download a copy for yourself by clicking on the link below: ROLEX PRICES MAY 2011 A few examples from this...
Surprise! Rolex Selects New CEO!
May 04
For a company that historically hasn't changed very much, Rolex has certainly had it's share of changes at the top over the last two years.  Rolex has just announced that it has a new CEO – Riccardo Marini. Recall that in 2008, long-time Rolex CEO Patrick Heiniger was ousted amidst unsubstantiated rumors that he had invested and subsequently lost a substantial amount of...
The 2011 Baselworld New Models From Rolex!
Mar 23
Unfortunately, I couldn't attend the Baselworld watch fair and trade show in Basel, Switzerland – my recent shoulder surgery is to blame there.  But, I still have a line on all the new models Rolex introduced at the Basel this year: OYSTER PERPETUAL COSMOGRAPH DAYTONA CASE Type OYSTER (monobloc middle case, screw-down case back, winding crown and chronograph pushers) Diameter 40...
Changes & Updates On DoubleRedSeadweller.com
Jan 04
Chances are you've visited Ed Delgado's DoubleRedSeadweller.com website before – it's been a valuable reference for fans of vintage Rolex sport watches for many years.  Ed's one of the most well known and well respected collectors in the Rolex community – and a good friend as well.  Ed even moderated the Vintage Rolex Forum on my site WATCH TALK FORUMS for...
NEWS: Rolex USA President & CEO Allen Brill Passes After Battle With Lung Cancer
Dec 01
I'm saddened to learn today that Rolex USA President and CEO Allen Brill passed away over the weekend, having lost a battle with lung cancer. To say that I'm shocked is an understatement.  I saw Allen earlier this year at the Baselworld Watch Fair  in Switzerland and he certainly seemed fine.  According to news reports, Allen was diagnosed just six weeks ago.  So sad…. I had...
History of the Rolex Caliber 1560
Nov 16
Arthur "AAKViper" is the moderator of the Vintage Rolex Forum on WATCH TALK FORUMS, and a very knowledgeable and well-known vintage Rolex collector.  Today Arthur posted a fascinating article on the Rolex caliber 1560 with the "butterfly rotor" in the Vintage Rolex Forum Thanks...
Announcing The New & Improved Rolex Reference Page at LuxuryTyme!
Oct 30
Welcome to the new and hopefully improved Rolex Reference Page at LuxuryTyme.com.  The Rolex Reference Page (formerly at www.rolexreferencepage.com) has been through many changes recently, so let me bring you up to speed.  In the late Summer of 2010, I was contacted by the legal firm which Rolex uses in the US, and told I needed to hand over the domain name rolexreferencepage.com, and make...