FINALLY! Rolex Introduces a "Pepsi" Cerachrom GMT Master II 116719 BLRO at Baselworld 2014
Mar 26
Baselworld 2014 doesn't officially open until tomorrow, but Rolex has already announced that they've FINALLY created at "Pepsi" read and blue bezel GMT Master II in the Cerachrom bezel (reference 116719 BLRO): Ever since Rolex released the first "super case" Rolex sport watch with a Cerachrom bezel (the all-gold Rolex GMT Master II 116718 LN which debuted at...
Review of the Everest Rubber Strap
Feb 04
Let's face it – being a Rolex collector and enthusiast means that you're going to have to live with a certain amount of monotony.  The Oyster bracelet in all it's splendor is the default choice throughout much of the Rolex sport line, as well as the Datejust and other non-sport Rolex models.  Sure there's some variation in materials and finish available, but one...
BOOK REVIEW: Total Rolex From Mondani Editore
Jan 25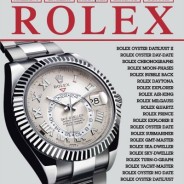 Book Review: TOTAL ROLEX Authors:   Giorgia and Guido Mondani By: John B. Holbrook, II January 25th, 2013 Just over two years ago (has it really been that long?) Mondani Editore produced the book ROLEX GALLERY (you can read my review by clicking here).  Recently The father-daughter team of Giorgia and Guido Mondani have produced a follow up to that wildly successful book entitled TOTAL...
Rolex Opens Its New Facility in Bienne
Oct 24
With the official inauguration, on October 16, 2012, of its new production building in Bienne, Rolex has completed the vertical integration process it began over 10 years ago. This gives the brand complete control over the manufacturing of the essential components of its watches, from the case to the movement, from the dial to the bracelet. The completion of the major strategic construction...
Book Review of Rolex Daytona Story
Oct 02
When Osvaldo Patrizzi and Guido Mondani collaborate, you know it's a special project.  When they collaborate to write on the topic of the legendary Rolex Daytona, it's a project which demands the attention of the entire Rolex enthusiast community, and beyond.  With  ROLEX DAYTONA STORY, Patrizzi and Mondani who are arguably the two most well published and knowledgeable figures on...
The Explorer II 16570-3186: The Last Of The Five-Digit Sport Rolex Models
Aug 31
In 2000, Rolex released the then-new Rolex Daytona 116520 – the first of the six-digit sport models which refreshed and replaced the same model with a five-digit model number.  In the case of the Daytona, the 116520 replaced the 16520 "Zenith" Daytona which came before it.  Over the next 10 years, Rolex would slowly but surely introduce a new six-digit model and discontinue...
A Tale Of Two Explorer II's
Aug 28
It's been a while since I've bought a Rolex (about three years actually), but I bought three in the last thirty days.  I bought the first two last month – a Y series coke bezel GMT Master II, and a P series white dial Explorer II.  Both were exceptionally good buys, and the Coke GMT II was almost immediately sold.  I bought the Explorer II with every intention of selling it...
Book Review: Collecting Rolex Milgauss, Yacht-Master, Turn-O-Graph, Explorer I, Explorer II
Apr 22
In 2010, Will Ferrell and Mark Wahlberg did a hilarious film comedy called "The Other Guys" with the premise being to show how important and meaningful the non-super star performers are on a team in the grand scheme.  On team Rolex, watches like The Submariner, Daytona, and the GMT Master II are the "super star" performers which tend to grab all the mainstream...
The Rest of Rolex's Basel 2012 New Products
Mar 08
For Rolex, the SKY-DWELLER (which I wrote about yesterday) was clearly their lead launch product for Baselworld 2012.  In addition to several jewel encrusted monstrosities which hold no interest for myself and my readers, they did roll out some other items of interest.  First, the long-anticipated non-date Submariner 114060 which has all of the upgrades (ceramic bezel, blue lume, bracelet,...
Some New Grips On My Springfield Armory EMP
Mar 04
Below is a photograph I decided to take of my recently purchased (and recently reviewed on my other site thrumylens.org) Springfield Armory EMP dressed in some new custom G10 grips: Just click on the image to see the full-size version.  Pretty cool eh? ...
Review of the Rolex Explorer II 216570
Jan 19
Review of the Rolex Explorer II 216570 By: John B. Holbrook, II January 20th, 2012 If you're a long time reader of LuxuryTyme.com, you'll know my very first brand new Rolex was a white dial Explorer II 16570 I purchased back in 2004.  When I bought my first white dial Daytona, I decided I didn't need two white dial Rolexes in my collection, and sold my Explorer II.  Truth be...
Rolex Releases Perpetual Spirit: On Exploration
Nov 15
Last week, I got an interesting surprise from Rolex.  A few times a year, they usually send me a few copies of the PERPETUAL SPIRIT magazine (which I've talked about before here on LuxuryTyme in this article).  However, their most recent publication which I was sent was a special edition called PERPETUAL SPIRIT:  ON EXPLORATION: This was no mere magazine, but rather a book dedicated to...
Rolex USA Price List As Of May 2011
May 17
If you haven't yet heard, Rolex has once again increased the US Retail prices on nearly all their models. The Rolex Reference Page at LuxuryTyme.com has obtained a PDF price list containing all Rolex models available in the US, along with their current retail price.  You can download a copy for yourself by clicking on the link below: ROLEX PRICES MAY 2011 A few examples from this...